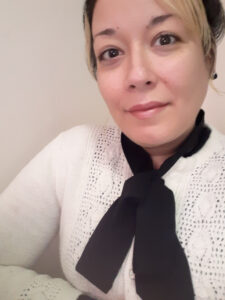 Cecilia Martinez (she/her) is a Latina communications professional with more than 12 years of experience in the field. A first-generation college student, she graduated cum laude from New Jersey City University with a Bachelor of Arts in English/Journalism and later attended Hudson County Community College for a Certification in Digital Media Arts. During this time, she excelled academically and was inducted into the Phi Theta Kappa International Honor Society and the National Society for Leadership and Success.
Cecilia has held many roles in communications and marketing. She was communications officer at Saint Peter's University, where she worked with the Office of Advancement and External Affairs on materials for both internal and external communications. Cecilia was also the website and newsletter communications coordinator for the Depts. of Obstetrics & Gynecology and Pediatrics at Columbia University Medical Center, providing social media and website support while also serving as managing editor for the departments' quarterly newsletter, Connections.
Cecilia's time as media relations manager for the National Kidney Foundation showed her the significance of nonprofit work. As part of the role, she partnered with patients suffering from chronic kidney disease to tell the inspiring stories behind their illness and/or recovery. This experience gave Cecilia's work meaning and provided an outlet to serve society. Passion and purpose has brought her to The Opportunity Agenda, where she is excited to serve as manager of media strategy to change narratives and educate minds.
Cecilia is also an award-winning, self-taught artist whose work often focuses on social justice issues related to racism, economic disparities, and women's rights. Her artwork has been exhibited throughout the country for its content. Notably, Cecilia's work was featured in Breathing While Black – a curated, artistic response to the murders of George Floyd, Ahmaud Arbery, Breonna Taylor, and countless innocent Black Americans due to racial profiling and police brutality – presented by the Augusta Savage Gallery at the University of Massachusetts Amherst. One of Cecilia's artworks was featured during a segment on Al Jazeera TV as well, when the station covered an Art and Studio Tour exhibit that explored the devastating effects of gun violence. She has been awarded a Certificate of Special Mention from the World Health Organization (WHO) Regional Office for the Western Pacific for her piece "The Scientific Method of Escapism," which was showcased at the WHO Futures Art Exhibition: Envisioning the Future of Health in 2050. She has also received a Social Conscience Award from Contemporary Art Gallery Online for her piece "The ABCs of PTSD."
Cecilia is an avid animal lover. She has volunteered with her local chapter of The Humane Society of the United States and is the proud "fur mom" to a rescue pup.
While Cecilia wears many hats, her first and most important job is being the proud parent of an adult son who is an open member of the LGBTQ community.
In her free time, Cecilia enjoys spending time with her son, writing poetry, and listening to grunge music.