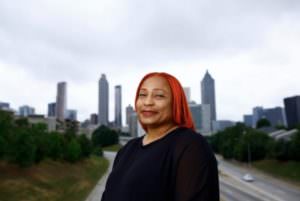 Pamela Winn is known as "The Face of Dignity for Incarcerated Women". She is an activist from Atlanta, GA that studied Biology at Spelman College, obtained three post-secondary degrees in Nursing, and worked more than 10 years as a Registered Nurse specializing in Women's Health prior to serving a 78-month federal sentence for a white-collar crime while pregnant. She is the founder of RestoreHER US.America, a policy advocacy organization dedicated to enhancing the lives of justice-involved women and work in partnership with those women to end the mass incarceration of women of color and pregnant women. She led RestoreHER to spearhead the unanimous passage of HB345, #DIGNITY For Incarcerated Women GA. RestoreHER is a core movement partner of the Southern Black Girls and Women Consortium. Pamela is also co-founder and board member of the Formerly Incarcerated College Graduates Network (FICGN) which promotes higher education of convicted people. She also serves as National Advisory Council for the National Religious Campaign Against Torture, the Women's Advisory Board with Human Impact Partners, and the National Anti-Shackling Advisory Board where she developed a Bill of Rights for Incarcerated Pregnant People. Pamela is the Board Vice President with the Association for Justice-Involved Females and Organizations (AJF0) and is also a board member of Motherhood Beyond Bars.
Pamela is a US Department of Justice, Office of Justice Programs, Peer Reviewer. She has provided written and oral testimony for the U.S. Commission on Civil Rights Briefing: Women In Prison: Seeking Justice Behind Bars.
Pamela is a 2017 Leading with Conviction Fellow of JustLeadershipUSA, 2018 Erin J. Vuley Fellow with Feminist Women's Center, 2019 Community Change Women's Leadership Fellow, and 2019 Soros Justice Fellow.
Connect