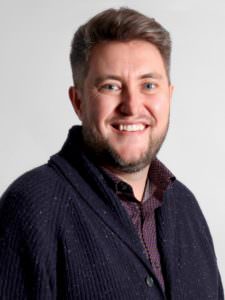 Brian Erickson (he/him) brings a firm belief in the power of story to drive narrative change and create political leverage for social change. In his role as the Digital Communications and Multimedia Manager, Brian combines values-based messaging best practices with documentary film and emerging media trends to produce multimedia stories that help audiences envision a more equitable and just future.
At heart, Brian is a messaging nerd who loves a good film and followed his passion to complete a master's degree in Media Studies at The New School. His studies focused on honing technical skills in digital storytelling and video production, including cinematography, non-linear editing and color grading, film theory, and documentary practice.
Prior to his graduate studies, Brian led communications strategy at the American Civil Liberties Union (ACLU) Border Rights Center, working to integrate grassroots and digital organizing strategies with legislative and policy advocacy campaigns to protect human rights in border communities. In coalition, Brian helped design and execute successful regional and national campaigns of the ACLU and Southern Border Communities Coalition to reform U.S. Customs and Border Protection's use-of-force handbook, agency-wide custody standards, and training, investigation and public reporting practices.
When he's offline, Brian and his family can be found hiking and camping in the woods or exploring the delicious food scene in Philadelphia.