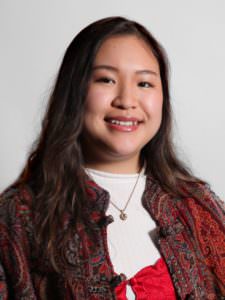 As Research Coordinator, Britney Vongdara (she/her) manages the operations of the Narrative Research Lab and their monthly webinar series, assists in research evaluation efforts, and contributes to additional research and narrative team projects.
Britney has a background in research, advocacy, and media production. Her research experience includes a Narrative Impact Fellowship with PopShift where she studied effective storytelling methods on socioeconomic inequality.
Prior to joining The Opportunity Agenda, Britney served as a paralegal at Lutheran Social Services of New York where she gave immigration-specific Know Your Rights presentations around the Bronx and Queens and helped manage the array of resources and shelters that they offered. The summer before that she worked with the International Rescue Committee to resettle refugees and connect them with community resources in Elizabeth, NJ.
Britney holds a Bachelor of Arts from Harvard University with a concentration in Sociology and minor in Art, Film, and Visual Studies. During her time there, she worked on several films and served as the Design Director of their college radio station WHRB 95.3 FM Cambridge.