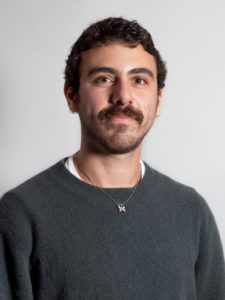 Charlie Sherman (he/him) brings experience at the intersection of social science research and strategic communications to his role as Narrative Strategist. In this role, Charlie works closely with colleagues to create and coordinate our suite of narrative strategy and messaging tools, develop ways for those tools to be accessible to intended audiences, and assess their efficacy. Charlie helps advise staff and partners on how research and narrative insights can shape their projects, as well as collecting and synthesizing findings from the growing narrative change field for both internal learnings and external projects. Additionally, Charlie assists in the evaluation processes to track organizational metrics as well as the success of narrative change concepts and findings at large.
Prior to this role, Charlie served as Research and Evaluation Coordinator, managing The Opportunity Agenda's Narrative Research Lab Project. Charlie oversaw the NRL, tracking and evaluation efforts, as well as providing general research support on a host of projects.
Prior to joining full time, Charlie had interned with The Opportunity Agenda in both communications and research capacities. His research background spans academic work in Queer Studies to HIV Policy Research at Treatment Action Group. As an undergraduate, Charlie worked as an HIV Tester for Oberlin College's HIV Peer Testing Program.
Charlie graduated from Oberlin College in 2019 with High Honors in Sociology.