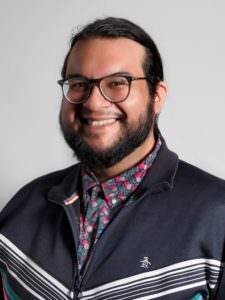 As the Training and Partner Engagement Manager, Chrystian Rodriguez (he/him) is responsible for advancing The Opportunity Agenda's mission to provide quality training, systems, and support to aid our partners in designing effective media communications strategies. Chrystian also manages collaborations and coordination of The Opportunity Agenda's organizational partnerships around the country.
Chrystian is a filmmaker and an experienced program leader in the field of media education and social justice cinema, bringing over 15 years of experience to the Training and Partner Engagement Manager role. Over the years, Chrystian has worked with diverse organizations, educators, cultural workers, and community organizers to develop empowering learning spaces and to craft impactful media projects that promote equity, community power, and social justice. Prior to joining our team, Chrystian led the design of media literacy, political education, and film production programs with Third World Newsreel, FROM HERE, Global Action Project, and Manhattan Neighborhood Network. He also recently served as a Senior Associate Director at Youth INC, and as the Senior Manager of Mozilla Foundations' Hive NYC Learning Network, where he led peer-learning networks composed of youth-serving organizations and maintained strategic partnerships.
In his spare time, Chrystian serves as the Workshop Director at Third World Newsreel where he leads an intensive film program, teaching new filmmakers to develop compelling films addressing critical socio-political issues. He also provides coaching for community organizers, designing media tools to advance their campaigns, on using equitable storytelling practices that uphold values of social accountability and community power.