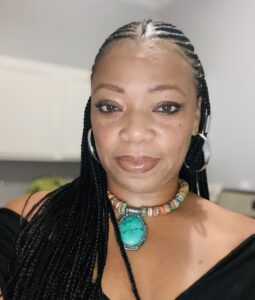 Dr. Tia Smith is a proud Bennett Belle, and received her bachelor's in mass communication, speech, and theater from Bennett College for Women in Greensboro, North Carolina where she graduated with highest honors having earned summa cum laude. After graduation, she worked as a freelance journalist and travel writer while pursuing graduate studies at Ohio University's coveted Scripps College of Communication in Athens, Ohio. She earned a Master of Arts in International Telecommunications with a Concentration in Women's Studies, and a Doctor of Philosophy in Mass Communication from the Scripps College of Communication. During her tenure at Ohio University, Tia was awarded the prestigious Foreign Language and Area Studies Fellowship (FLAS) and received top honors including Syracuse University Graduate Student Fellowship for research in Southern Africa, where she took part in the "Faces of Independence" project.  
Following her formal education, Tia worked as a corporate communications consultant, where she focused on communication campaigns, media relations, and international communication education.  Tia has served as a communications consultant for civil rights organizations including the Leona Tate Foundation for Change and Plessey & Ferguson Foundation, and she has consulted on research projects with the United Nations Development Fund for Women (UNIFEM). Tia held teaching positions at the University of the West Indies, St. Augustine in Trinidad & Tobago, West Indies & Xavier University of Louisiana, where she taught courses in communication and women's studies. Tia has collaborated and consulted with her colleagues on many research projects, conferences, films, and academic papers. She trained journalists and media professionals throughout the Caribbean and Latin American on covering taboo topics such as child sexual abuse, domestic violence, and human trafficking.  Tia has lived and worked in diverse cultural and learning environments in the United States, Zimbabwe, Swaziland, Brazil, and Trinidad & Tobago and has traveled to six of seven continents giving her first-hand knowledge of the sensitive nature and challenges associated with issues of media, diversity, and inclusiveness.  
Tia enjoys cooking and traveling and is a loving mother to two young adults. Tia lives in New Orleans with her husband and the happiest dog alive – Sammi.