Fight for $15: The Importance of Showing our Nation's Caregivers That We Value Their Work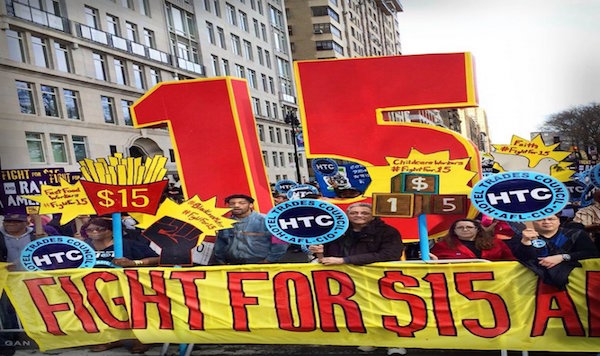 by Elizabeth Johnsen, The Opportunity Agenda
Earlier this month, thousands of Americans marched across the country for a minimum wage of $15 an hour. Led by unions and social justice organizations, the Fight for 15 actions included low-wage workers and their supporters, from fast-food employees to home health aides. They marched in 35 states and 190 cities, unified in a common goal: to secure $15 an hour as the new minimum wage.
The importance of this campaign hits close to home. Over the past three years, I have watched, worked with, and grown close to a group of home health aides who deserve far more than the $13.38 an hour they are paid for the invaluable job they do: keeping my mother happy, healthy, and alive.
My mother is one of more than 100,000 quadriplegics living active lives today in America. This is only possible thanks to the devoted work of seven Personal Care Associates (PCAs) who provide her with round-the-clock care. When my family learned that my mother, a single woman nearing 65, would spend the rest of her life as a quadriplegic due to a spinal-cord injury, one of our first angst-ridden thoughts was "Who will take care of her?" And that's when these incredible home health aides walked into our life.
Over the past three years, I have watched, worked with, and grown close to a group of home health aides who deserve far more than the $13.38 an hour they are paid for the invaluable job they do: keeping my mother happy, healthy, and alive.
My mother's PCAs help her with everything she cannot do. They cook for her and assist her with eating. They bathe and they dress her. They lift her several times a day – into the wheelchair, out of the wheelchair — and oversee her daily physical exercises. They drive her to the elementary school where she volunteers, take her to doctors' appointments, grocery shopping, and the hair salon. They oversee her regimen of a dozen pills every morning, midday, and night; manage her blood pressure; keep her on a healthy diet; care for her when she's sick; and rush her to the ER when there's a close call.
Just as importantly, they keep my mother laughing. They provide her with company and friendship, a shoulder to cry on and a voice of encouragement when she wants to give up. They do all of this day in and day out, working long hours, sometimes double shifts. They do all of this for $13.38 an hour.
There are millions of home health aides across the country doing similar work and most of them–unless privately hired–are doing so for much less than $15 an hour. Knowing firsthand the amount of physical, mental, and emotional work this job entails, my mother, sisters, and I have often discussed how we wished we could offer her caretakers more. But it's not so simple.
The costs of living with quadriplegia are enormous. According to the Christopher and Dana Reeves Foundation, the average first-year expenses for a quadriplegic are $1,023,924 and $171,808 each subsequent year. Given these numbers, my mother was in no financial position to privately pay for her 24/7 care. Thankfully, she lives in Massachusetts, which has a notably progressive state health care program, Mass Health, to cover her PCA needs. Unfortunately, Mass Health only pays $13.38 an hour. And that's the problem.
The rallying argument behind the Fight for 15 campaign is that wages less than $15 an hour are not enough to live on decently in today's economy. Employees at fast-food chains, hospitals, airports, and big-box stores are barely getting by. These men and women have families to support. Many are single mothers with few options for childcare. Others are undocumented immigrants and therefore face a host of challenges in addition to low wages. But it's not only the workers and their families that low wages hurt. It's also those who employ them and our society at large.
The turnover rate for home health care is huge. In large part, this is because PCAs struggle not only with the low wages they are paid, but also with long hours, work that takes a physical toll, inadequate health care, often nonexistent childcare, and other obstacles, such as medical training expenses.
When a PCA does resign, it's a stressful loss for the person being cared for–sometimes devastating. This is intimately personal work. The aides are, quite literally, never beyond an arm's reach. It takes time to grow comfortable with them, to trust their close care and assistance. I myself have seen the stress and disappointment my mother goes through (sometimes every few months) when a PCA has no choice but to walk away for a job that offers more money. Other times they simply burn out. These women are my mother's arms and legs. They are also her friends. And it's not easy to find replacements, not for $13.38 an hour.
This is true not only for Americans with disabilities and their families, but also for those of us watching our grandparents and parents age. As a "Generation Xer," my peers and I will watch our parents – the baby boomers – transition into the greatest elder boom in history. Every eight seconds, another baby boomer turns 65. By 2035, 11.5 million Americans will be over the age of 85, more than double today's 5 million. The need for professional caretakers, especially home health aides, will soar.
All of us want our parents and grandparents to spend their aging years in dignity, receiving the care that they deserve. We want to see the same for those we love dealing with disability or illness. But in order to ensure this, we as a society need to value the work that professional caretakers are doing and honor that value in a decent wage.
In the grander scheme of things, $15 an hour doesn't come close to acknowledging all of the work that my mother's caretakers do for her. I sincerely hope that the gratitude and appreciation my mother, family, and I try to show these women can fill that gap. But for now, $15 an hour is a solid start. Now is the time to support the Fight for 15. Now is the time to show those caring for our loved ones that we care back.
---
Elizabeth Johnsen is the Director of Program Management and Impact at The Opportunity Agenda. A former journalist, Elizabeth continues to write on issues close to her heart.