Native Artists: Shifting our National Script
​by Betsy Theobald Richards (Cherokee Nation), The Opportunity Agenda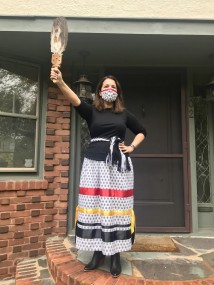 After decades of fighting erasure from our stages and screens, I was delighted this past week, when it was announced that Lakota playwright and screenwriter Larissa FastHorse won the 2020 MacArthur "Genius" Award for her phenomenal body of work. This was not only a win for diversity at a time when the country is in the midst of a national reckoning on race and justice. More importantly, it is a triumph of something all of us in the Indigenous community care about: having our voices, perspectives, and visions not only heard, but upheld in our national narrative.
Despite Larissa's and other Native artists' recent well-deserved and noteworthy honors (author Tommy Orange's National Book Award, Joy Harjo's appointment as U.S. Poet Laureate, among others), these moments of national recognition are too few and far between. As the 2018-released research Reclaiming Native Truth has affirmed, contemporary Native Americans are, for the most part, invisible in the United States. This erasure can play out just as much with our allies, as well as our opponents, and often leaves Native artists swimming in well-meaning but not-so-receptive cultural waters.
Larissa's honor is particularly poignant to me, because it was exactly 10 years ago this week, that I found myself stepping down in protest from my role as Native Theater Fellow at the New York Shakespeare Festival/Public Theater when they moved their hit emo-rock musical Bloody, Bloody Andrew Jackson to Broadway despite vehement protests from the Native community.  As a Cherokee citizen, theater artist, and former Native arts funder, I couldn't fathom how this wonderful theater could be simultaneously supporting Native writers like William S. YellowRobe (Assiniboine) and Joy Harjo (Muskogee Creek) while producing this "History Just Got Sexy Pants" portrayal of Indian Killer-in Chief Andrew Jackson. As former Amerinda Theater Artistic Director Steve Elm (Oneida) put it, the play "seemed to be expressly written without any idea that there are Native people still alive."
The good news is that, despite the consistent strong pull of myth and misinformation, Reclaiming Native Truth's public opinion polling has found that 78% of Americans are now open to learning more about Native Americans. This hunger for a new narrative framework is a hopeful trend for artists like Larissa FastHorse and her contemporaries such as Mary Kathryn Nagle (Cherokee Nation) and Ty Defoe (Ojibwe/Oneida). And newsflash: despite my story about 2010, I have spent the last decade working in narrative change at The Opportunity Agenda, partnering with a powerful and diverse network of artists to support them in telling compelling stories that will change the national conversation and shift culture.
If you'd like to join me in celebrating voice, artistry, and storytelling from a Native perspective, along with helping to shift harmful narratives, you can take action by supporting Native-led narrative change organizations like IllumiNative and philanthropies like the Native Arts and Cultures Foundation and First Peoples' Fund. Together, we can end erasure, celebrate the voice and visions of Native storytellers, and create a culture where we see and hear each other's past, present, and future.
​