A Bold Look, A Bold Vision: The New TOA Brand, Website & Plan for Justice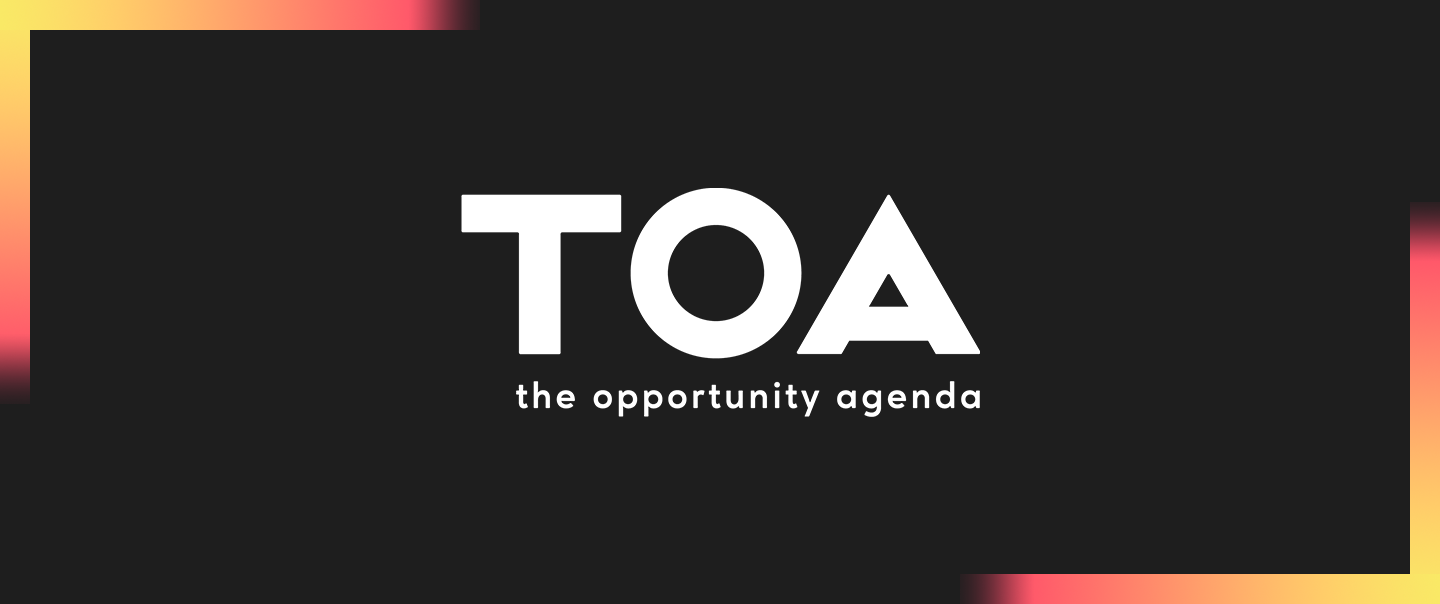 by Ellen Buchman, The Opportunity Agenda
The team at The Opportunity Agenda (e.g., Team TOA) is thrilled to share our new look and new website! Celebrating our organization's body of work and history of creating tools, cultural strategies, and gatherings toward narrative shift to justice, our elevated brand dares to lean in and inspire a future where justice, equity, and opportunity exists for everyone.  
Beginning in 2020 with TOA's Strategic Planning process, we've been working since that time to develop a new look that not only honors our storied past but also evokes our bold approaches, visionary innovations, and adventurous heart. Together with Outright, our amazing creative agency, we've achieved a design that we think will spark joy, spur creativity, and embolden inspiration.
The new TOA brand is inspired by values that we hold dear – opportunity, voice, community, equity, and safety. It is the visual manifestation of who we are and how we're moving forward by sharing story, influencing culture, building power, and achieving freedom for all.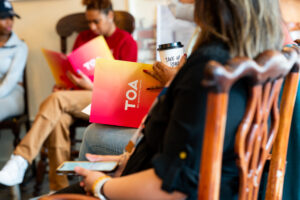 The logo, marked by the large custom-drawn TOA lettering, is a bold visual statement to match the impact of our research, messaging, and training. The vibrant, primary color palette reflects our work to challenge white supremacy, evoking themes of intersectionality, gathering in community, and the energy and passion that grounds movement building. The brand also represents our optimism and playfulness while being designed to shift seamlessly to match our resolve whenever the moment calls. Our new font and typeface are minimalistic and modern to evolve with the times while ensuring versatility and legibility. Furthermore, the high contrast of our new brand colors is designed for digital spaces and chosen to ensure visual accessibility.
Our redesigned and reimagined website beautifully showcases our new look. Dramatically set against a dark background, our dynamic colors pop and images appear more striking. Simplified navigation and immersive webpages offer a more streamlined experience and improve readability to help users find our tested messaging guidance or anything they seek to find when it's most needed. Together, the improved user experience and creative design highlight what we do as well as the friends and partners who inspire us and help us get things done. We hope visitors lean into their curiosity, explore, and enjoy their journey.
Team TOA invites you to take a look. Visit our website and follow us on social media. And we hope that The Opportunity Agenda's new, refreshed look and feel inspires you to stay connected and to join us in the journey toward justice.