Best Practices for Journalists
​
For generations, people of color have been the victims of unfair, biased and criminalizing coverage in the news media. From the consistent use of imagery and language based in historical stereotypes, to copy-editing standards and photo choices that misrepresent diverse communities, the media has at times gone against one of journalism's core values which is to "minimize harm to the communities and people they cover."  Basic journalism education provides writers, producers and editors with the tools to ethically answer the "who, what, where, when, why and how" of any issue or event. However, accurately and thoughtfully reporting on issues of race and culture requires that journalists go beyond those basic skills. Reporters should make intentional efforts to craft stories that uplift the voices of the most impacted without criminalizing them or adding to existing narratives. This is always important, but must become a priority in times of crisis and unrest. Communities of color are in pain after the tragic shooting deaths of Alton Sterling and Philando Castile. The death of the officers in Dallas has added to the anguish and unrest breaking out across this nation.  When writing and editing content pertaining to these and other tragedies involving people or communities of color, reporters, editors and producers need to consider the following: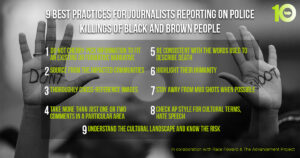 IMPERATIVES FOR COVERING THE RECENT SHOOTINGS
Black Lives Matter:  Do not attribute the actions of the Dallas shooter Micah Johnson to Black Lives Matter or the broader Movement for Black Lives (to which he was not affiliated). His actions are not reflective of the values and principles of Black Lives Matter or the Movement for Black Lives.
"Race War:" Much of the media coverage of the Dallas police shootings irresponsibly framed the shootings as a race war and tied it to the Black Lives Matter movement despite the fact that the police chief said at a press conference that it is too early to speculate about the shooter's motives. The New York Post's front page this morning blared the words "CIVIL WAR," and the Drudge Report posted the headline "Black Lives Kill."  These are irresponsible journalistic responses, and should be avoided.
Do not Cherry-pick Information to fit an existing or forming narrative: Media coverage of one of the victims, Alton Sterling, focused on his previous arrest record.  Unless such information is directly relevant to the story, it should not be included.  And, in any event, such information should be included, if at all, on an even-handed basis toward all actors in a story.
Sourcing Images: Make sure that you are thoroughly cross-referencing images through platforms like Google, AP and Getty Images and social media sites to ensure you run the right picture. Running the wrong picture of a person of color featured in your story uplifts the stereotype that all people of color look alike, it shows a lack of care and commitment on the part of your news organization and can have harmful implications for others both related and unrelated to the story.
For example, Mark Hughes, a black man who was not involved in the shooting and was legally carrying a gun at the protest in Dallas, was falsely accused of being involved in the shooting. The Dallas Police department tweeted an image of Mark Hughes, who was not involved in the shooting, identifying him as a suspect. They still haven't have not taken it down and the image has been used in multiple publications. Mark Hughes has subsequently received thousands of death threats.
Sourcing Information and Pictures
Sources should come from the impacted communities as much as possible. It's always good to have experts on tap to speak to trends, data, etc., but the diverse voices of people of color must be infused in the story.
Do not just take the comments of one or two people of color or from those residing in one particular area, even in local stories. Make sure you are engaging people of color from across your communities and across the nation for stories with local impact. This will help show the range of responses and ideas, making your content more accurate and inclusive.
Word choice and Copy Editing
Too often copy desks use fast and loose rules when deciding when to deem a loss of life as a murder, a killing, an incident or an accident. Research shows that when people of color are accused of (or are found guilty of) committing violent acts, media tend to use harsher, criminalizing language (murdered, massacred, slayed). But less violent language is used when they are the victims of violent acts.
Word choice: Be consistent with the words used to describe death, especially in instances involving police, and pay attention to the way you're attributing language to people based on race.
For example: Broadcasters speaking about the Dallas shooting have said that the officers were "murdered," but days prior said Alton Sterling and Philando Castile were "shot." Their deaths were "incidents" and "tragic accidents," not murders even though all were shot. This simple word choice devalues and dehumanizes their lives, while shifting blame and accountability away from those who killed them.
Check AP Style for Cultural Terms, Hate Speech: Double check the AP Stylebook for words and language considered derogatory and hate speech. This list changes annually to include new language and cultural references. This will help minimize the use of derogatory and culturally-insensitive language that could cause additional harm to the people you're reporting on.
STAY AWAY FROM MUG SHOTS WHEN POSSIBLE. There's a rising trend in media where outlets are running old mug shots as lead art for stories about victims of police killings. When choosing images to run with stories about Black and Brown victims of state and police violence, make every attempt to use sourced photos provided by family or that come from their social media accounts. Running an unrelated mug shot with a story contributes and uplifts the narrative that people of color are criminals and that their deaths are related to their apparent abhorrence for authority.
Highlight their Humanity: Remember that when writing about Black and Brown victims of state violence, that their humanity should be uplifted before anything else, especially unrelated criminal activity, police records or other information linked to the criminal justice system. Include the voices of family, friends, loved one and community members along with other necessary facts needed to tell a balanced story.
Understanding the cultural landscape and knowing the risk
When writing about victims of state and police violence, it is imperative that reporters take time to learn about the history of police in their particular communities and the nation's history of police engagement with Black and Brown people.
Know when the police department you're writing about was founded
Know the race and gender demographics of the department
Know the race and class demographics of the communities those officers serve (Do the officers in that community REFLECT the community?)
Research prior instances of similar acts and violence in the department
Research the police department's rules of engagement and statues for use of excessive force