Why Everyone Should Be Talking about California's Proposition 47
​
A recent brief by the California Budget Project explains California's Proposition 47: "Proposition 47, which will appear on the November 4, 2014 statewide ballot, would amend the state Penal Code to reclassify certain drug and property crimes as misdemeanors and allow people previously convicted of crimes to be resentenced. Additionally, Proposition 47 would invest in state criminal justice savings resulting from these sentencing changes in drug and mental health treatment, as well as in victim services and programs designed to improve outcomes for K-12 public school students" (California Budget Project, September 2014).1
Specifically, this act would address seven categories of nonviolent drug and property related crimes commonly known as "wobblers," or crimes that can be charged as either a felony or misdemeanor at the discretion of the prosecutor and the court (California Penal Code, Section 17(b)).2 These categories include check fraud, drug possession, forgery, petty theft, petty theft with a prior theft-related conviction, receiving stolen property, and shoplifting. If passed, Proposition 47 would reclassify certain crimes in these categories as misdemeanors unless the individual has a prior conviction for a serious and/or violent offense, or for any registerable sex offense, and thus remove their "wobbler" status. Proposition 47 would also allow people previously convicted of reclassified crimes to be resentenced. Finally, Proposition 47 would also establish a special fund for crime prevention and recidivism reduction programs.
Seven-in-ten believe the Criminal Justice System in this country needs major improvement or a complete resign.
Propositions like the "The Safe Neighborhoods and Schools Act" are largely a result of the fact that Americans' views on the criminal justice system have evolved, and more and more key stakeholders in government agencies are responding to advocates for criminal justice reform. For some time now, the American public has recognized that the prison population is high – in fact, half of U.S. voters (51 percent) believe that too many people are being held in prison, and are twice as likely to agree than to disagree that the country relies too heavily on incarceration (Lake, Gotoff & Pultorak, 2013).3
A new study, conducted earlier this year by The Opportunity Agenda, found that just more than half of Americans (54 percent) believe society is better served by harsher punishment for people convicted of crimes, and 46 percent believe society is better served by a greater effort to rehabilitate people convicted of crimes (The Opportunity Agenda, 2014).4 Americans are even more supportive of alternative sentencing when the crime is considered "victimless" or nonviolent.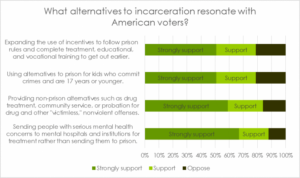 A plurality of Americans (48 percent) believe that use of alternative sentencing programs for people with nonviolent convictions should be increased (The Opportunity Agenda, 2014). Groups that are more likely than the general population to favor increasing alternative sentencing programs include liberals (59 percent), people older than 65 years (56 percent), college graduates (56 percent), and upper-class Americans (60 percent). Several proposed alternatives to incarceration resonate even more intensely with the American voters, such as the ones included in California's Proposition 47. Overwhelmingly, 84 percent of Americans support (and 59 percent strongly support) providing non-prison alternatives such as drug treatment, community service, or probation for drug and other "victimless," nonviolent offenses.
In California, a large majority of crime survivors (70 percent) also prefer investments in drug an mental health treatment over incarceration, especially women, younger crime victims, African Americans, Latinos, low-income crime survivors, and victims of multiple crimes (Californians for Safety and Justice, 2013).5 Furthermore, there is broad support across regions and political affiliation for shifting focus to community-based corrections programs like probation or parole (Mellman Strategies, 2012).6
All this should mean that Proposition 47 has a more than decent chance of being passed in early November. In theory this would save the state somewhere in the low hundreds of millions of dollars annually according to the Legislative Analyst's Office (LAO), increase opportunities for familial visitation during incarceration that could help to reduce recidivism by reducing the incarcerated individual's chance of becoming "socialized to the life of an inmate," and engage them in rehabilitation, as well as reduce the collateral consequences of reclassified crimes.7/8
---
Notes:
1. California Budget Project, September 2014.
2. California Penal Code, Section 17(b).
3. Lake, C., Gotoff, D., & Pultorak, K. (2013). Reducing Incarceration Levels in the U.S.: Opportunities for Reform. Open Society Foundations.
4. The Opportunity Agenda, 2014.
5. Californians for Safety and Justice. (2013). California Crime Victims' Voices.
6. Mellman Strategies. (2012). Public Opinion Sentencing and Corrections Policy in America. Public Opinion Strategies.
7. Legislative Analyst's Office, "Proposition 47: Criminal Sentences. Misdemeanor Penalties. Initiative Statute," in Secretary of State's Office, California General Election Tuesday, November 4, 2014: Official Voter Information Guide, p.36.
8. Shymeka L. Hunter, "More Than Just a Private Affair: Is the Practice of Incarcerating Alaska Prisoners in Private Out-of-State Prisons Unconstitutional?" Alaska Law Review 17 (2000), p.339 and Grant Duwe and Valerie Clark, "Blessed Be the Social Tie That Binds: The Effects of Prison Visitation on Offender Recidivism." Criminal Justice Policy Review 24 (2013).
​