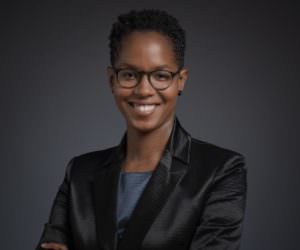 Aduke Thelwell is a strategic thinker with deep experience advising global companies as a banker, management consultant, and communications specialist. She is currently the Head of Communications for Serve Robotics, a leading sidewalk delivery robotics company recently spun out of Uber. Prior to Serve, she was a Partner at Kekst CNC, a global strategic communications agency, where she advised senior executives and Boards on strategic positioning and investor perception. Previously, Aduke worked as a Case Team Leader at Bain & Company, a Structured Products Analyst at Goldman Sachs, and a Consultant at NERA Economic Consulting.
Aduke has a longstanding commitment to social justice and economic opportunity, and her nonprofit service has included roles as a Board Fellow for the Dobbyn Foundation, Microfinance Consultant for Enterprise Solutions to Poverty, and Social Entrepreneurship Program Director for the MIT Legatum Center for Development and Entrepreneurship. She currently sits on the Board of Sylvatica Biotech, Inc.
Aduke holds a BA with High Honors from Swarthmore College and an MBA from Harvard Business School. Born and raised in Jamaica, she is now a proud immigrant and diehard New Yorker.