Why Asian American Visibility and Voice Matters
Highlighting the rich diversity of Asian American communities and treating individual stories with the dignity and respect they deserve is one of our most powerful tools to counter anti-Asian racism and violence. This month, we're celebrating the work of two Creative Change alumni whose business and filmmaking practice embody what it takes to create a more inclusive, equitable society.
Changing the Game for Vietnamese Coffee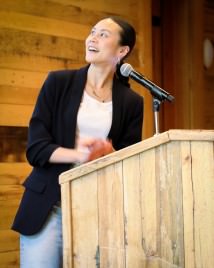 Sahra Nguyen (CC '19) is a game-changer, and we're not just saying that — Food & Wine magazine proclaimed it on the cover of their June 2021 issue. The founder and owner of Nguyen Coffee Supply was named one of 25 "People and Companies Changing the Way We Eat and Drink." From the beginning, Nguyen's Brooklyn-based, Vietnamese specialty coffee company aimed to expand representation of Vietnamese coffee culture.
For me, it was seeing how Vietnam, the world's second largest coffee producer, was rendered invisible and deliberately excluded from specialty coffee… The themes of invisibility, exclusion, devaluing Asian lives/food/coffee and 'you don't belong' are things I've worked hard to fight/change all my life.
Generally, big corporations purchase robusta beans for instant coffee, which contrasts with the widely recognized arabica beans that dominate specialty markets. Nguyen sought to change, by combining cultural strategies with economic justice principles to create a direct-trade relationship between the Brooklyn-based roaster and Vietnamese farmer, Mr. Ton.
There was this level of extraction happening-extracting the product in the country without enough recognition of the people. We believe in building a diverse and inclusive coffee culture. It is a collective investment with everyone along the entire supply chain.
Check out their website for ordering options, #FWGameChangers specials and tips on how to make the famous Vietnamese Egg Coffee (cà phê trú¸ng) — just make sure to use robusta beans.
Asian Americans Wins Peabody Award
In June, the PBS five-part documentary series Asian Americans won a Peabody Award. With episodes produced by filmmakers Grace Lee (CC '14), Geeta Gandbhir, and S. Leo Chiang and the series produced by Renee Tajima-Peña, the five-hour special explores 150 years of Asian American history.
You really understand why it's important to record our family's stories while people are still alive, because every time another generation passes on, the story gets diluted. Fortunately, we have things like documents and photographs and things, but nothing beats having filmed images, recorded audio of people telling their stories even later on in life.
Lee directed and produced the second and fourth episodes of the series. In its award recognition, the Peabody Awards applauded the series' handling of "national, ethnic, religious, political, linguistic, and cultural diversity that make up Asian American communities," calling it deserving of a Peabody for "its revelatory storytelling as a demonstration of activism and solidarity in the American story and fight for justice and dignity."
You can watch the series with PBS' THIRTEEN passport, explore their multimedia gallery, and find lesson plans for educators seeking to integrate the program into curriculum.