The Case of the Cultural Influencers: Colin Kaepernick, Jimmy Kimmel, and #MeToo
Executive Summary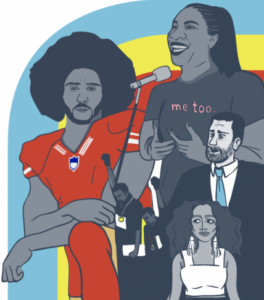 In recent years, the power of popular entertainment to inspire large audiences and shift cultural norms has become a topic of growing interest in the social advocacy space. A large body of research has been dedicated to tracking representation trends in film and television, and a growing cohort of organizations provides practical recommendations for those seeking to leverage popular culture in their advocacy work. While existing research has provided critical insights into the effectiveness of high-profile spokespeople in short-term campaigns and fundraising, significant gaps in the literature exist in terms of in-depth analysis of more symbolic actions on the part of high-profile individuals as well as measurements of the impact of celebrity influencers on long-term narrative shift.
Under which circumstances do cultural influencers have the greatest ability to achieve their goals?
Currently there is a pressing need to better understand the potential of high-profile influencers to not only draw attention to social issues but also spark meaningful dialogue and actions that lead to lasting social and policy change. As part of our Power of Pop series, this current research examines three cases of high-profile entertainers and athletes speaking out or advocating for a social and/or policy change. The cases include: Case 1: Colin Kaepernick and the Take A Knee protest Case 2: Jimmy Kimmel and the healthcare debate Case 3: Me Too and Time's Up movement This research aims to better understand the unique influence of high-profile athletes and entertainers and provide practical recommendations for those seeking to work directly or indirectly with cultural influencers to shift narratives and effect policy change. Key questions explored in the research include:
Under which circumstances do cultural influencers have the greatest ability to achieve their goals?
Are cultural influencers' interventions best suited for long-term cultural change, short term policy shifts, or other types of impact?
What types of celebrity intervention have the most impact?
How can social justice advocates best support/leverage the influence of cultural influencers both through direct and indirect contact?
To evaluate the effectiveness of the range of strategies and issues covered in our selected case studies, we established the following criteria for success:
If the action or sets of actions had a clearly stated goal, to what extent was this goal achieved?
Was there a marked impact on the national discourse, in both media coverage and public discussions of the issue the cultural influencer was addressing?
Did the actions of one influencer encourage others to speak out or also act?
Were there unanticipated shifts in the public discourse (and, where applicable, policy change) as a direct or indirect result of a cultural influencer's actions?
Based on these criteria, we conducted a media content analysis and social media analysis for each individual case. Our findings point to a series of lessons learned and best practices for future cultural campaigns.
The Impact
Taken together, our findings demonstrate that strategic engagement from high-profile influencers can have the following impact on social advocacy campaigns:
Significant increases in news media and social media engagement with social justice issues: All three case studies revealed a marked increase in both the volume and focus on news media and social media engagement. For instance, since Colin Kaepernick and other athletes began taking a knee, news media coverage of police misconduct has nearly doubled (from an average of 4000 articles to 7000 articles published every 12 months), and social media engagement with the issue has seen a nearly three-fold increase.
Direct or indirect policy and cultural changes in organizations and institutions: The case studies in this report have resulted in a myriad of organizational policy and cultural shifts as a direct and indirect result of the efforts of high-profile influencers. In the case of Jimmy Kimmel, the Graham-Cassidy bill was ultimately defeated. Since Kaepernick and other athletes began taking a knee in protest to police killings of unarmed people of color, the National Football League (NFL) and several teams have spoken out in support of criminal justice reform. For instance, in September 2016, shortly after Kaepernick's first field-side protest, the San Francisco 49ers announced that it would be donating $1 million to two charities in the Bay area focused on racial and economic justice. In January2018, the NFL in conjunction with players formed the "Let's Listen Together" coalition, which aims to improve police and community relations. As of July 2018, 10 NFL teams have announced the launch of new committees, coalitions, or other activities aimed at raising awareness and tackling social justice issues. The Me Too movement has had a similar impact. Since the Me Too movement first began to proliferate in October 2017, more than 800 high-profile figures have been publicly accused of harassment, sexual assault, rape, workplace misconduct, and other related behavior. A recent article details the range of policy changes that have been introduced across industries because of the Me Too movement. This includes the introduction of mandatory annual anti-harassment trainings for lawmakers and staff in Congress and the inclusion of so-called "Weinstein Clauses" in several large mergers and acquisitions.
Encouraging other high-profile individuals and members of the public to speak out: Each case study was characterized by high-profile influencers successfully encouraging others to speak out in support of or opposition to an issue. Following a series of monologues from Jimmy Kimmel, several Republican senators spoke out openly against the Graham-Cassidy bill, eventually leading to its defeat. Since Kaepernick first begin his protest in August 2016, more than 200 athletes have sat or kneeled during the national anthem. Our analysis revealed that a significant portion of news media and online discourse focused on actions and commentary of other high-profile athletes and spokespeople. In the case of the Me Too movement, not only did the personal stories of high-profile entertainers propel the issue of gendered violence into the national discourse, but also subsequent coordinated efforts of the Time's Up campaign maintained engagement with the issue after media coverage began to wane.
Learn More
Read the entire Executive Summary, including Recommendations, or download the Full Report to learn how you can take action.